Intro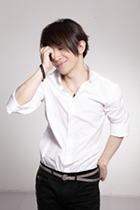 Lu Chen was first interested in magic at the age of 8, only four years later, at the age of 12, he received his first award as the champion of Taiwan teenager magic competition, and the presenter was none other than the legendary David Copperfield. Since then, he has been winning multiple international awards on his career path, including: 2001 Japan Osaka "Naniwa International Magic Convention Competition" Stage Magic Champion, 2003 "World Magic Seminar Asia" Grand Prix and many more.

In 2003, Lu Chen became the first Chinese magician ever to perform at the sanctuary of magic –The Magic Castle in Hollywood of United Sates. In 2002-2008, Lu Chen has been performed and lectured in over 30 international magic conventions, a record on Chinese magic history.

In 2005, as the first Chinese magician ever, Lu Chen set his foot on the stage of magic world's capital – Colon. When he finished his act, he received a standing ovation from several thousands of peer magicians for over a minute. He was awarded "The Neil Foster Award for Excellence in Manipulation" as well as "People's Choice" on the same convention.

In 2006, again as the only Chinese magician, Lu Chen was invited for guest appearance on the opening gala show of "I.B.M. International Brotherhood of Magicians Annual Convention" in Miami, U.S., by which he received standing ovation from over 3000 magicians from all over the world. His refreshing performance style and highly creative act were highly praised by global magic community, which made him the most well known Chinese magician in magic fraternity. President of the convention Jerry Schinepp commented on Lu Chen's performance as "the most skillful manipulation act that he has ever seen in last 50 years."

For near 10 years, Lu Chen has been making numerous T.V. appearances. Apart from his regular appearances on T.V. shows in Taiwan and China, Lu Chen is also the first Chinese artist whom has his own T.V. special produced by mainstream Japanese T.V. channel and broadcasted at prime time. Fuji T.V. in Japan has been producing T.V. special for Lu Chen since 2007, his two hours long Japanese TV prime time special in 2008 was also the highest television rating show in the time slot. In the same year, Lu Chen was also awarded "Close Up Magician of the Year" on Japan Cup magic convention.

Lu Chen appeared in over 1000 television shows in his career, and in 2009, he was invited as a guest performer for the "2009 CCTV Spring Festival Evening Gala", a special live television show which takes place once a year on Chinese new year's eve. This show has been held by CCTV for over 20 years and it has the audience approximately 1.3 billion people in the whole country. Lu Chen delivered a successful performance, and received the "Best Act Award" in music and performing arts category for his act. Because of his performance at the show, he triggered a "Magic Craze" in China, and he became the most well-known magician in China.

In 2010, Lu Chen made his second appearance on "2010 CCTV Spring Festival Evening Gala", and received "Best Act Award" award for the second time.

In 2011, Lu Chen reached his dream of being the first Asian magician to host his own show on the famous Las Vegas Boulevard. The same year in June, he appeared on the cover of U.S.A.'s "Magic" magazine. In July, he was invited to perform at the Essential Magic Conference in Portugal, which he demonstrated "The Berglas Effect" in front of David Berglas himself. In December, Lu Chen received the "Asian Magician of the Year" awarded by FISM and AMA in Hong Kong. He became the first recipient of the award.

In 2012, Lu Chen performed on the "CCTV Spring Festival Evening Gala" for the third time. In April, he received the most prestigious award a magician can get. Lu Chen was awarded "The Magician of the Year 2011" by The Academy of Magical Arts. At the night of the ceremony, his fans from overseas have hired a private airplane to circle above the Beverly Hills for one hour to celebrate his achievement.

In 2013, Lu Chen was invited to attend the "CCTV Spring Festival Evening Gala" once again. In April, Lu Chen received one of the most ancient award in the history of European movies and arts industry, The Congress of Masters of Magician. He became the first Chinese to ever received this award.
Secret
Name: Lu Chen
International Stage Name: Lu Chen (since 2001 for the sake of easy pronunciation for non-Chinese native speakers)
Sign: Cancer
Language:Chinese, English, Japanese
Eyesight: Nearsightness 300, Astigmatism 400 (In the February 12, 2011, laser correction)
Personality: Introverted, Absent-minded (record: three mobile phones lost in two months, passport lost twice in a month, two back packs lost in six months, and wallet lost countless times )
Personal catchphrase: seriously?
Favourite Quote: Try as much as humanly possible, leave the rest for God to decide
Favorite Food: Corn, Pudding, Potato Chips, Burger, Curry Rice, Pasta …(and all children foods)
Pet Hate Food: Scallion, Ginger, Parsley
Favorite Colour: Black, Purple
Favorite Artists: David Copperfield、 Michael Jackson
Favorite Actors: Al Pachino、Tong Leung
Favorite Movie Directors: M.Night Shyamalan、 David Fincher
Favorite Movie: Kung Pow
Favorite Authors: Louis Cha、Li Kuang、Ayatsuji Yukito、Stephen King、Atouda takashi
Favorite Comic Book Writers:Urasawa Naoki、Fujiofumio
Favorite Country: Holland
Favorite Night Scene: Las Vegas, the Bund of Shanghai
Favorite English Word: "Weird " (The pronunciation sounds cool)
Favorite Japanese Word: 似合う-Niau (The pronunciation sounds cool)
Favorite Personality: Low Key, Polite, Professional Least Favourite
Personality: Pedant, Big-Mouthed, Unprofessional
Pet Hate: Spider, Paparazzi, defamer
Favorite type of female: Smart, Cute, Humorous
Collection: Silver Accessories, Wooden Boxes, Glasses, Watches, Magic DVDs and Books
Instruments: Violin (at the age of 6), Flute (at the age of 9), Harmonica (at the age of 10), Baritone (at the age of 13), Guitar (at the age of 18)
First magic trick ever seen: At the age of 8, a female demonstrator at department store performed "Coin Flight" for him, in which a coin is sandwiched between two plastic plates, wrapped by rubber bands and finally placed inside a handkerchief, however, the coin instantly escaped. This trick sparked Lu Chen's interest in magic and changed his life since.
First magic trick ever learned: Place a coin into handkerchief and vanish it, later the coin comes out from pocket
Most Unforgettable Performance: 2006 US Miami IBM International Convention Guest Performance
Most Nervous Performance: 2009 CCTV Spring Festival Evening Gala
Honors and accomplishments
Most well know Chinese magician on history
Most internationally awarded Chinese magician
First Chinese magician ever performed at Las Vegas and Hollywood Magic Castle
Most international magic conventions guest appearance Chinese Magician
Most T.V. appearance Asian Magician
The only magician ever produced National Touring Show in China
The only magician ever received "Best Act Award" on Spring Festival Evening Gala
The only magician with books appeared on Yearly Best Seller list of mainstream bookstores
The only Chinese magician ever been invited to Japan to produce personal TV specials
The only Chinese magician held personal large ticket premiere in Las Vegas.
The First Asian magician to host a major ticket selling event in Las Vegas.
The First person to achieve the highest television rating on Korea's NBC Magic Fest during the peak hours.
Awards:
1988
Taiwan Teenager Magic Competition Champion Presented by David Copperfield
1998
"Formosa International Magic Convention"- Best Creativity Award S.A.M Japan Special Award and Contract
2000
Naniwa International Magic Convention – First Price Award in stage magic Category
JCMA Special Award
2003
Japan Professional Magician Association - Magician of the Year
Japan Magic Association International Magic Convention
FISM Audition Champion
World Magic Seminar Asia - Grand Prix
I.B.M International Brotherhood of magician -Finalist Awar
2005
CHAVEZ Magic Academy- Neil Foster Award-Excellence in Manipulation
Abbott`s Magic Get-together - People`s Choice Award
2008
JAPAN CUP AWARD - The best close-up magician of the year
2009
CCTV Spring Festival Evening Gala Best Act Award in music and performing arts category
2010
CCTV Spring Festival Evening Gala Best Act Awardin music and performing arts category
I.M.S International Magicians Society Merlin Award) - Merlin Award - Magic
2011
5th Annual National People's Congress and Entrepreneur Forum – "Socially Responsible Artist" award
Fédération Internationale des Sociétés Magiques (FISM) & The Academy of the Magical Arts (AMA) - Asian Magician of the Year
2012
The Academy of the Magical Arts - Magician of the Year
2013
The Congress of Masters of Magician
Magic Convention

(World Magic Seminar Asia – Nagoya,Japan)

(I.B.M Annual Convention – Miami,USA)

(World Magic Seminar - Las Vegas,USA)

(IBM Britsh Ring Annual Convention - Eastbourne,ENGLAND)

(International Magic Annual Congress – Abano, ITALY)

(Thailand International Magic Convention - Bangkok,THAILAND)

(Naniwa International Magic Convention - Toba,JAPAN)

(Korea International Magic Festival, - Seoul,KOREA)

(Wuqiao International Magic Festival - Wuqiao,CHINA)

(Abbott`s Magic Get-Together – Colon,USA)

(I.C.M International Magic Convention - Toba,JAPAN)

(S.A.M JAPAN magic convention – Saidama,JAPAN)

(B.I.M.F International Magic Festival – Busan,Korea)

(Golden Flower Award - Nanjin,CHINA)

(Japan Professional Magician`s Association 1.2.3 day - Tokyo,JAPAN)

(Annual show of Kamakura Magic Club - Kamakura,JAPAN)

(Singerpore Magic`s Association – SINGERPORE)


(Essential Magic Conference - Portugal)


(Masters Of Magic - Italy)